Celebrating 25 years!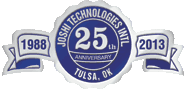 JTI Announcements
---
Prestigious Award Recipient
April 11, 2016
Dr. Sada Joshi has been named a 2016 IOR Pioneer Award Recipient. He was honored at the 20th SPE Improved Oil Recovery conference on April 9 - 13, 2016, in Tulsa, Oklahoma. This award is given to selected individuals who have made outstanding contributions over the years in the development and application of technology to improve oil recovery. read more
JTI Selected as an Honoree for The Journal Record's Tulsa's Fast 40!
November 08, 2012
Joshi Technologies International, Inc. has been selected as an honoree for The Journal Record's Tulsa's Fast 40. This program is designed to recognize the Tulsa Metro Area's fastest growing privately held companies. read more
Dr. Joshi Awarded Anson Marston Medal by the College of Engineering, Iowa State University Alumni
October 26, 2012
MultiLateral 2.0 Release
October, 06, 2009
MultiLateral 2.0 rate forecasting technizue is based on the complete analytical solution for a multi-lateral well in a closed reservoir, and covers the entire production history from transient through depletion regimes. read more
JTI Honored with Governor's Award for Excellence in Exporting
April 10, 2009
Joshi Technologies International, Inc. (JTI), a Tulsa based petroleum engineering and production firm, has received the 2009 Governor's Award for Excellence in Exporting. read more
Multi-Fractured Horizontal Solution Now Available to Forecase Oil and Gas Production
December 16, 2008
Joshi Technologies International is proud to announce the release of JTI.Horizontal 7.0 which now supports multi-fractured horizontal wells, in addition to horizontal wells, vertical wells, and vertical fractured wells. read more
PROCONE 4.0 Release for .NET
July 01, 2008
Joshi Technologies International, Inc. is proud to announce the release of PROCONE 4.0 which has been completely re-written for Microsoft .NET. read more
Dr. Joshi Awarded Distinguished Alumnus by his alma mater, IIT Bombay, India
March 2003